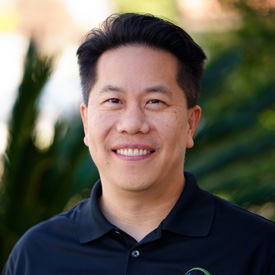 Since 1997, I have had the pleasure of providing orthodontic care to families in the community and surrounding areas. Following in the footsteps of my father, I have used my education and hands on experience to treat my patients with top of the line care that gives each individual a smile they have always dreamed of. Getting to know my patients and their families and helping them achieve their goals is extremely rewarding. I want to use my training and talents to build others up by giving them a smile they can be proud of and confident in!
Education and Experience
Undergraduate – California University Polytechnic, Pomona
Doctorate of Dental Surgery – University of Southern California Dental School
Master of Science in Craniofacial Biology – University of Southern California Dental School
Master of Science in Advanced Orthodontics – University of Southern California Dental School
By continuously supporting my education, I am able to stay current with the changes in orthodontics and dentistry so that I can provide state-of-art orthodontic care for my patients. I have taken part in seminars through Invisalign® Summits, the Academy of Orthodontic Excellence, and the Edward H. Angle Society on all aspects of orthodontic technology. I have also been an instructor at the USC Dental School Orthodontic Department, the Citrus College Dental Assisting Program, and the Pasadena City College Dental Tech Program.
Professional Memberships, past and present:
American Association of Orthodontists
Pacific Coast Society of Orthodontists
California Dental Association
San Gabriel Valley Dental Society
Tri-County Dental Society
Newport Harbor Academy of Dentistry
Edward Angle Orthodontic Society
Academy of Orthodontic Excellence
Invisalign® Top 1% Elite Study Club
College of Diplomates of the American Board of Orthdontics
Spear Continuing Dental Education
USC Orthdontic Alumni Association
Family Life
I met my wife, Tina, at church when we were 5 years old and 7 years old and we have been happily married since 1997. Tina studied at Loma Linda University and is a board-certified pediatrician who practices locally, incorporating natural solutions such as essential oils and nutrition into her care of patients. We have seven beautiful children, six boys and one girl. Their names are Allen, Stephanie, Jeremy, Evan, Luke, and twins Peter and Paul. My children amaze me everyday. We homeschool them and feel blessed to have the privilege of guiding them and learning alongside them. We have had a house full of animals which include: dogs, chickens, chinchillas, guinea pigs, rabbits, turtles, birds, lizards, tarantulas, preying mantises and a variety of other creatures.

When I'm not in the office, I enjoy spending time with my family, homeschooling, singing in the church choir, playing the guitar and harmonica, reading, and playing board games and computer games. My claim to fame is winning the title of "Break Dance King" at Sierra Vista Middle School in 8th grade. Sometimes I still "pop" some moves and breakdance with my kids.

I am also a Deacon for Alhambra True Light Presbyterian Church and participate in teaching Adult Sunday School with my wife. I also enjoy serving youngsters by teaching Junior Church at church.
Being an Eagle Scout, I am committed to scouting and am currently serving as a Den Leader while my boys are scouting in a local troop and pack.