We recognize that all of our patients are unique and deserve to receive orthodontic care that reflects their individual needs. Our experienced and talented team is committed to working with you and your family to create a comfortable, stress-free, and rewarding orthodontic experience every time you visit our practice.
We are pleased to welcome you and your family, and we look forward to working with you.
---
Pam
Business Manager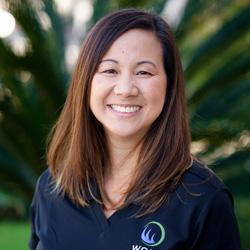 As the business manager of Wong Orthodontics, it has been a joy to oversee and support our awesome team by empowering them to reach their potential in the workplace. With a Bachelor of Science degree in Business Management from Cal Poly Pomona, I enjoy ensuring the efficiency of business operations as well as setting strategic goals for the future. Currently I am working on my Master of Business of Administration at Biola University and I love applying what I've learned to our office. Analyzing our company's data in order to provide reports for decision-making to reach our company's growth potential has been a welcomed challenge for me. I also enjoy finding new approaches to integrate efficient technology into our operations.
Here at Wong Orthodontics, you can find Dr. Wong and the rest of our team collaborating to find strategic ways to provide better orthodontic care and excellent customer service for our patients. We have great team synergy and unity where everyone uses their strengths for the betterment of our company's success.
Outside of the office, my sweet husband and I are busy raising four beautiful children. We enjoy working with our church's youth group and spending time with dear friends. I love doing anything outdoors with my family and friends: camping, biking, hiking, swimming, running, kayaking, fishing… if its outdoors, I'll do it!
Jennifer
Lead Treatment Coordinator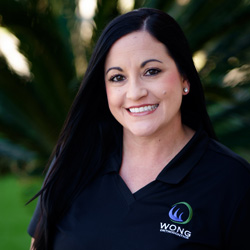 In 2006, I joined Wong Orthodontics and haven't looked back since. As the lead treatment coordinator, I have the pleasure of introducing new patients to our office. Part of our time consists of discussing treatment plans and financial options. Patients, Dr. Wong, and I all work together to develop the best treatment plan for each individual. I enjoy addressing any specific needs or concerns a patient might have because educating them about orthodontics has always been a top priority of mine. We want every patient to be comfortable with their treatment plan and also be confident in what the outcome will be.
Dr. Wong is very friendly and sincerely cares about his patients. He continuously keeps not only himself but his staff updated on new technology and continuing education regarding orthodontics. This allows us to give our patients the most up to date services that will provide them with the best care. Coming to work every day is truly enjoyable as the staff works great together. We are definitely one big happy family.
My husband Chris and I are happily married and have one son named Brock and a Chihuahua named Lilly. As a family we are involved with the La Verne Little League as a player, coach, and team mom. Fall is my favorite time of the year and I especially love decorating my house for Halloween. I am a big baseball enthusiast and I am a fan favorite of the Dodgers. In my spare time I love to garden and spend time with my family.
Jennie
Administrative Registered Dental Assistant, Treatment Coordinator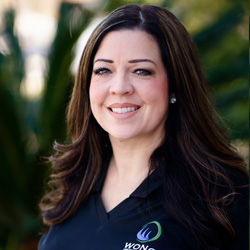 I have had the privilege of welcoming patients since 2003 and have enjoyed every moment of it. As the front office administrator, my days consists of scheduling appointments, answering phones, assisting patients with any questions, preparing paperwork for patient exams, presenting new patients with treatment plans, and much more. I started my career with an internship with Dr. Wong's office and have been here ever since.
The team and I share the same passion to see a patient's smile attribute to their self-confidence. We also work well together to provide a fun environment for our patients by hosting creative events while giving back to the community. Dr. Wong is very compassionate towards his patients and thoroughly enjoys conversing with them as a person and not just a "mouth." You will often find Dr. Wong and the staff laughing and smiling a lot because we love working together to provide outstanding care to our patients. It has always been our priority to make sure each patient has a great visit every time they enter in to our office.
I have been happily married to my husband Josh since 2005 and we have three wonderful children. Nathan is currently in the Navy, Brody loves playing baseball, and Madison is my bookworm who also loves to sing. Roxi is our beloved golden retriever. My family and I love being outdoors and we always have an adventure when we are hiking, fishing, and camping. When I'm not outside enjoying Mother Nature, you can often find me spending time doing my favorite hobby, painting.
Patrina
Insurance Coordinator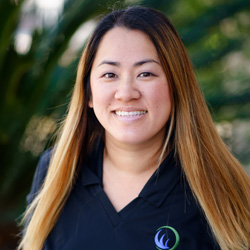 Joining the team in 2014, I have had the opportunity to help patients apply and receive the most out of their orthodontics benefits as the insurance coordinator. Verifying patients insurance plans, creating claims, submitting claims, making sure claims are properly paid, and pursuing further action when claims are not paid are just a few things I do on a daily basis. Seeing patients breathe a sigh of relief when their insurance has paid makes doing what I do so rewarding.
Working at Wong Orthodontics has been incredibly fun and a great learning experience. Dr. Wong is a true professional who takes the utmost care of his patients. Working alongside the staff has been both rewarding and fulfilling.
My husband and I have been married since 2006 and we have three boys named PJ, Peyton, and Parker. Our weekends are filled with soccer and basketball practices and games and we wouldn't have it any other way. We love sharing a meal with friends. During my free time, I love trying new recipes and participating in craft fairs.
Laura
Registered Dental Assistant, Clinical Coordinator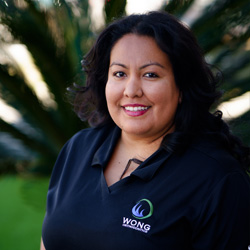 Being in the orthodontic field since 2000, I have had the pleasure of seeing thousands of patients smile from ear to ear once their braces are removed. It is truly an honor to be able to help boost a patient's self-confidence by helping them with their smile. Seeing the faces of parents when their child gets their braces off is one I will never forget. In the office you can find me assisting Dr. Wong with orthodontic procedures that improve a patient's smile.
Dr. Wong is a wonderful doctor who is committed to his job and enjoys bonding with his patients. He always takes the time to see how each individual is doing and what they've been up to. We have an awesome team here at Wong Orthodontics and it is always pleasurable working with a staff who genuinely supports and cares for one another.
In my leisure time I love doing activities with my family. Personally, I love baking cakes for birthdays and special occasions, going shopping with my sister, and watching movies.
Nellie
Registered Dental Assistant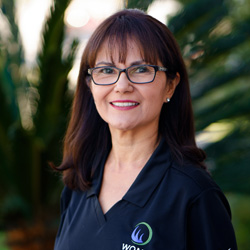 Since 1983, I have had the honor of seeing patients walk out of our office with confidence and gladness when their treatment is over and their teeth are straight. When patients say they love their smile and are glad they had treatment done, it makes me proud to do what I do every day. Taking X-rays and photos, placing brackets, inserting attachments, debanding, seating patients, and creating appliances are just some of the things you can find me doing on a daily bases. I love the opportunities to converse with patients and see how I can help them move forward and progress in their treatment.
Dr. Wong is a very patient and knowledgeable person and his patients are his number-one priority. Working with the staff has always been extremely enjoyable because we are like family and are there to help each other out when needed.
I relish the times I get to spend with my five grandchildren. Watching my granddaughter play soccer is always fun and exhilarating. I also enjoy sewing and doing crafts with my daughter.
Alyssa
Registered Dental Assistant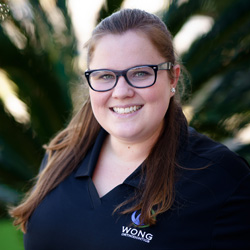 As a graduate of the Registered Dental Assistant Program at Citrus College, I have had the pleasure of working at Wong Orthodontics since 2014. Taking patient records, assisting with bonding and attachment procedures, scanning patients to begin or end their treatment, and giving instructions on proper oral hygiene are just some of the responsibilities I have here in the office. I love being an RDA as it is very exciting to see how happy our patients are about their smile at the end of their treatment.
Dr. Wong is an expert in this field and loves to help all of his patients walk out of our office with confidence about their treatment. Here in the office we are family that works well together and is always there for each other.
Outside of the office, I enjoy spending time with my family, doing projects on my home, going to the beach with friends, and visiting my hometown of Big Bear.
Allison
Registered Dental Assistant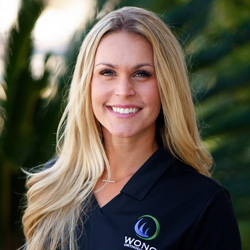 I am the newest member to our team and have enjoyed jumping right in to providing our patients with excellent quality care. As a recent graduate of Citrus College, I have been assisting patients chairside while also supporting Dr. Wong with many orthodontic procedures. In between patients, I keep the office well-stocked and organized so that every patient receives the exact care they deserve when they come in for their appointment.
Working at Wong Orthodontics has been exciting because I love seeing patients happy with their new smile at the end of their treatment. Dr. Wong is a great teacher because he always explains to his patients and his staff exactly what he is doing so that everyone is completely knowledgeable about the ongoing treatment. It's a pleasure working with a team who is very supportive of one another and who also enjoys spending time together outside of work.
Married since November of 2015, I love spending time with my husband. Together we can be found hanging out with our nieces and nephew at a family BBQ, attending a good country music concert, or at a baseball game cheering on the Angels with close friends. In my free time, I enjoy working out, fixing up our apartment, and trying out a new recipe.